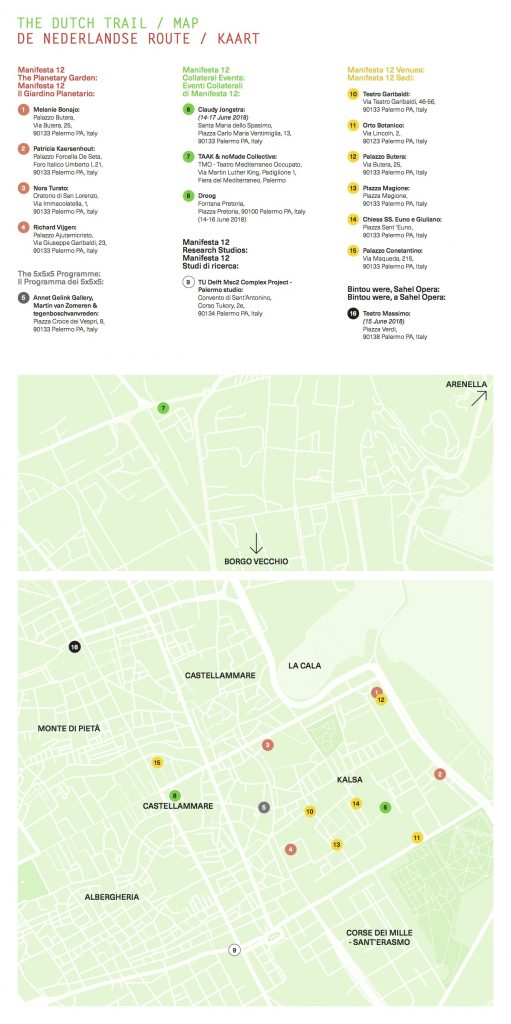 The Dutch Trail, generously supported by DutchCulture and The Netherlands Embassy in Rome, highlights a variety of Dutch participants that have contributed to Manifesta 12 Palermo in The Planetary Garden, the Collateral Events, the 5x5x5 as well as other projects related to Manifesta 12 Palermo. Indicating the various components and venues of the Dutch participants of Manifesta 12 in Palermo, the Dutch Trail encourages to discover the creative energy flowing from the Netherlands into Palermo, engaging with Europe and the world at large in a symbiotic coexistence.
[Click here to download the brochure]
"The Embassy of the Kingdom of the Netherlands in Rome in collaboration with DutchCulture is proud to support Manifesta in this extra festive edition, which marks the 25th anniversary of this outstanding Dutch initiative.  A year after the Royal Couple's State Visit to Palermo, the beautiful Italian Capital of Culture 2018 will host Manifesta 12. Manifesta has developed since the 1990s into the 4th most influential biennial in the world, after the Venice Biennale, documenta in Kassel, and the Whitney Biennial in New York."
-Joep Wijnands, Ambassador of the Kingdom of the Netherlands in Rome

"Manifesta 12 represents a novel mediation model that focuses on transforming a biennial into a platform for social and artistic co-creation, determined to leave a tangible legacy for Palermo. We hope that the Dutch Trail is helping to create a more sustainable dialogue with Palermo and its citizens to maintain our collaboration after Manifesta has left."
-Hedwig Fijen, Manifesta Director
The Planetary Garden
The Palermo Atlas
The Office for Metropolitan Architecture is an architecture office and research centre. For Manifesta 12 Palermo, OMA, led by Ippolito Pestellini Laparelli, has produced The Palermo Atlas, an interdisciplinary investigation of the city covering architecture, archaeology, anthropology, archival research, personal histories and media. The Palermo Atlas is the foundational step of Manifesta 12 that serves both as a blueprint for Palermo to plan its future and a research framework to ensure that Manifesta 12 achieves a real long-term impact for Palermo citizens. The Palermo Atlas anticipated curatorial research by Ippolito Pestellini Laparelli, Bregtje van der Haak, Andrés Jaque and Mirjam Varadinis, the Creative Mediators of Manifesta 12. OMA's headquarters are in Rotterdam.
Richard Vijgen
Born in Tilburg, Holland in 1982, Richard Vijgen is a designer and information researcher. He designs and produces data visualizations and interactive data installations, using codes, pixels and 3D printers. His objective is to make the invisible visible and make data "capable of meaning". His work is deeply rooted in the digital world but always maintains its connection with the physical and social space as well. Connected by Air (2018) proposes a contemporary image of the sky over Palermo, a vector of people, things and information. The artist creates a window with a panoramic view of all the data and objects crossing the sky, including wireless signals, satellites, airplanes, and air conditions and currents. In Palermo, the sky can be seen not only from the street but also in the ceiling frescoes of many of Palermo's historic palazzi, painted during the Italian Renaissance. Typically, the artists used the sotto in su' perspective technique and the quadratura genre, a highly realistic perspective that extends the architectural space. With these techniques as inspiration, the artist has created a visualization of data in a sotto in su' projection of the sky over Palermo.
Nora Turato
Nora Turato, born in 1991 in Zagreb, Croatia, is a performance artist who lives and works in Amsterdam. I'm happy to own my implicit biases (malo mrkva, malo batina) (2018) combines performance and voice, exploring the linguistic and cultural syncretism of the city of Palermo. The project describes the Sicilian tradition of the so-called donas de fuera, that is "women from elsewhere", who at the time of the Spanish Inquisition were treated as outcasts due to their unconventional powers and behaviour. The installation-performance takes place in the Oratorio di San Lorenzo, which acts both as a stage for the performer and stalls for the audience. Researches and translations by Andrea di Serego Alighieri.
Melanie Bonajo
Melanie Bonajo was born in Heerlen, the Netherlands in 1978; she lives and works in Amsterdam and New York. Her work revolves around the paradox inherent to the idea of comfort, placing particular attention on such concepts as community, equality, and policies relating to the body. Night Soil Trilogy (2014) is an experimental documentary in three parts that shows how most of the Western population feels strongly disconnected from nature. Through a semi-documentary approach, Melanie Bonjao explores in depth how people live with a sense of fragmentation and estrangement. The figures in her film are searching for new rituals, for a different relationship with nature and a reconfiguration of the concepts connected to gender issues in an attempt to resist the tremendous sense of emptiness that pervades them; not infrequently, their search leads them to follow alternative lifestyles, at times engaging in antisocial or illegal dynamics. Segments of a semi-documentary nature alternate with hallucinatory fragments that emerge from Bonajo's imagination. These last images result from her intense collaboration with the main characters, most of whom are women.
Patricia Kaersenhout
Patricia Kaersenhout is an artist, activist, and visual feminist. Born in 1966 in Den Helder, Holland, Kaersenhout has pursued an artistic path exploring the relationship between her background from Suriname (on the north-east coast of Latin America) and her Western European education. The common thread of her work raises questions about the movements of the African diaspora and its connections to feminism, sexuality, racism and the history of slavery. Soul of Salt (2016) and The Mask of Cruelty (2018) are presented in Palazzo Forcella De Seta.
The Collateral Events and the 5x5x5
Claudy Jongstra
Claudy Jongstra, in collaboration with Villa Valguerna/Past Forwards, produced Woven Skin for the opening and preview days of Manifesta 12 Palermo. The project initiates vital conversations on issues of biodiversity, inclusivity and cultural heritage. As an artwork and a nomadic forum, Woven Skin invites you to become part of a growing global community around the ecology of colour. Two connected workshops have taken place on June 15 and 16, 2018, in Chiesa Santa Maria dello Spasimo.
Droog
Florilegium is a performative installation produced by Dutch designer Frank Bruggeman and perfume designer Alessandro Gualtieri. Hosted by Dutch design office Droog, this project is inspired by pollination in nature and culture and took place on 15 and 16 June, 2018, at the Fontana Pretoria (Piazza Pretoria).
TAAK
COPRESENCE, a collaborative project by the Amsterdam-based art collective TAAK and noMade Collective, proposes a different approach to the phenomenon of migration through art (June 15-17, 2018 in Teatro Mediterraneo Occupato).
Annet Gelink Gallery, tegenboschvanvreden and Martin van Zomeren
Annet Gelink Gallery, tegenboschvanvreden and Martin van Zomeren, three contemporary Dutch art galleries based in the heart of the old centre of Amsterdam, curated 'if we want things to stay as they are, things will have to change', presenting works by Matt Bryans, Christina Lucas, Antonis Pittas, Janis Rafa, Fernando Sánchez Castillo and Sarah van Sonsbeeck (Piazza Croce dei Vespri, 8, Palermo).
Bintou were, a Sahel Opera
Bintou were, a Sahel Opera (abridged version) is an opera made and produced in the Sahel. The opera project was initiated by the Dutch Prince Claus Fund and premiered in Africa and Europe in 2007/2008. It is restaged for Manifesta 12 Palermo in Teatro Massimo with the addition of local elements including a local choir composed of African singers trained by the local conservatorium. On June 15, 2018, the opera was staged in Teatro Massimo, Palermo, and simultaneously screened on Piazza Verdi.
Manifesta 12 Research Studios
TU Delft (Technical University Delft)
Together with the Architectural Association and Royal College of Arts from London and the University of Palermo (UNIPA), TU Delft from the Netherlands investigated, reflected on, and proposed future scenarios for the city of Palermo. The work of the studios is displayed in a group exhibition at the former mill of the seventeenth-century Convento di Sant'Antonino – one of UNIPA's main locations in Palermo – and staged through a series of performances and actions through the city.
Manifesta 12 Marketing and Audience Development
HKU (University of the Arts Utrecht)
Manifesta and the HKU University of the Arts Utrecht have collaborated on a study project in Palermo, inviting a group of HKU students to Palermo to research visitor services, volunteering, marketing and audience development strategies in the context of the upcoming Manifesta 12.
The Dutch Trail is generously supported by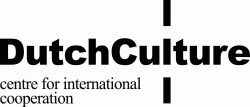 Additional Support by