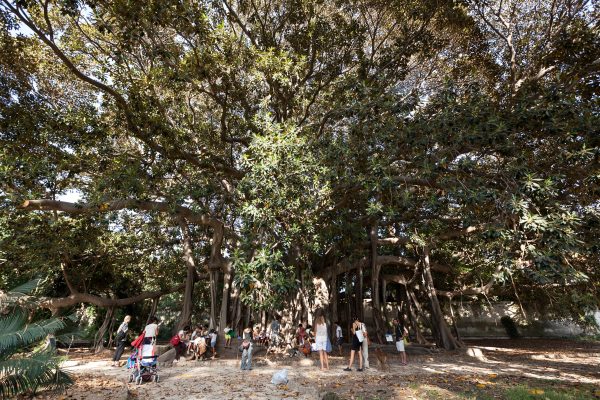 Manifesta 12 Tours with Gardeners
To dig deeper into the biennial topics, visitors can join a guided tour with one of the Manifesta 12 Gardeners and explore the main sections of The Planetary Garden. Cultivating Coexistence: Garden of Flows, Out of Control Room, and City on Stage. The Gardener accompanies the group and proposes collective discussions on an individual selection of works corresponding with the section you have chosen.
Similar to botanical gardeners, Manifesta 12 Gardeners are caretakers, cultivating the coexistence of visitors' opinions around the event. Having witnessed the growth of the Manifesta 12 Palermo projects, they share their knowledge as well as inquire about the experiences of the audience. Together with the groups, they discuss the visible, the invisible, and our role and responsibility as human beings in an ever-transforming world.
1. Garden of Flows Tour
Venues: Orto Botanico or Palazzo Butera
A tour in the Garden of Flows section explores topics of toxicity, plant life, and the culture of gardening in relation to the transnational commons. Participants of the tour will take a look at the city of Palermo and discuss the idea of the garden, exploring its capacity to compose life out of movement and migration. There are two separate tours offered for the section Garden of Flows: Visitors can choose between the venues Orto Botanico or Palazzo Butera.
2. Out of Control Room Tour
Venues: Palazzo Ajutamicristo and Palazzo Forcella De Seta
The Out of Control Room section investigates the role of power in today's regime of global flows and constant changes. In contemporary times, the traditional power structures of nation states seem to become less important, while our lives are organised in invisible networks, whose accelerating forces are getting more and more complex. The works included in Out of Control Room make invisible networks visible, the abstract tangible and debatable. Palermo, a city of transnational movements, subject to decades of criminal exploitation and neglect, is the ideal stage where to discuss about possible futures. The tour includes a selection of works presented at Palazzo Ajutamicristo and Palazzo Forcella De Seta.
3. City on Stage Tour
Venues: Palazzo Costantino
The City on Stage tour is focused on Manifesta 12 works in direct dialogue with the city of Palermo, its communities, traditions, and public spaces. This dialogue is embodied and multiplied in various projects which: reinforce community engagement through collaborations and public interventions in the city's periphery, honour the long tradition of storytelling – or cantastorie – through a series of new narrative productions; recognise the Santa Rosalia procession as an expression of contemporary syncretism, dialogue, and celebration; and mobilise its rich cinematographic legacy to present untold stories on the city.