Manifesta 12 Meet Up is a series of informal events organised by the Manifesta 12 team and is part of the pre-biennial programme Aspettando Manifesta 12. M12 Meet Up aims at making the Manifesta 12 research process transparent and available for people of Palermo to engage with.
From November 2017 until the end of Aspettando Manifesta 12, artists and participants invited to visit Palermo for research are asked to engage in informal conversations with students, art amateurs, social associations, and different groups of the city. The purpose is, on one hand, to offer citizens of Palermo some insights into the artist's practice and research, while helping stimulate their imagery on what Manifesta 12 could be about. On the other hand, M12 Meet Up helps the artist and the team to engage with local collaborators for the development of their artistic project.
11th M12 Meet Up: with Roberto Collovà
Wednesday 28 March, 7pm, at Teatro Garibaldi 
Roberto Collovà is an architect from Palermo whose research-driven practice often takes the form of poetic photographs and drawn notes. In his experimentations in the field of architecture, both photography and design are never addressed as mere instruments of observation and representation; rather, the architect uses them in order to develop an independent, creative practice, as well as a new, expanded narrative. Throughout his career, Roberto Collovà has also focused on landscape architecture and gardens, on the building up of installations in public spaces, and on the production of furniture, lamps, ephemera and ceramics.
On the occasion of Manifesta 12 Meet Up event, Collovà will discuss a specific research project focusing on Palermo, and featured in La strada di costa. I parchi nascosti, (Marsilio, 2015). The critical practice that the architect has developed in his publication aims not only at unveiling all those false myths and tales about the city's recent history, but also to nurture a sort of archeology of the modern. Palermo's historical centre, the construction boom known as 'Sacco di Palermo', the conditions of its suburbs, its gardens, les terrain vagues, and the so-called third landscape: all real places and historical events that put forth the formation of a new geography of the city. The practice of observing, describing and expressing through drawing and photography allows the architect to notice the arising of new resources that, although being still not visible today, will certainly be useful for the development of an open city, as Palermo will be in the next decades.
During the event at Teatro Garibaldi, Roberto Collovà will also show the drawings that have nurtured this research, and will explain how these productions are actually the imprint of conceptual operations that aim at describing a new attitude towards the urban environment and a new vision of the city.
Manifesta 12 Meet Up with Roberto Collovà will be in Italian, and will be live streamed on Manifesta Biennial Facebook account.
Following the event, an aperitif will be served by the Caffè Letterario Garibaldi at a special price.
10th M12 Meet Up: with Maria Thereza Alves
Tuesday 20 March, 7pm, at Teatro Garibaldi 
Born in Brazil and based in Europe,Maria Thereza Alves is an artist who researches social and cultural phenomena, and who works particularly with situations which question social circumstances about what we think we know and who we think we are, looking instead at where and how we actually are at this time. Alves has worked and exhibited internationally since the 1980s, creating a body of work that investigates the histories and circumstances of particular localities to give witness to silenced histories. Her projects are researched-based and develop out of her interactions with the physical and social environments of the places she lives in or visits for exhibitions and residency programmes. These projects begin in response to local needs and proceed through a process of dialogue between material and environmental realities and social circumstances. While aware of the Westerner brutal separation between nature and culture, art and politics, or art and daily life, she deliberately refuses to acknowledge them in her practice. She chooses instead to create spaces of agency and visibility for oppressed cultures through relational practices of collaboration that require constant movement across all of these boundaries.
For the 10th Manifesta 12 Meet Up, Maria Thereza Alves will speak about her research and her latest travels to Palermo. The event will be mainly in English. Following the event, an aperitif will be served by Caffè Letterario Garibaldi at a special prize.
For further information on Maria Thereza Alves: www.mariatherezaalves.org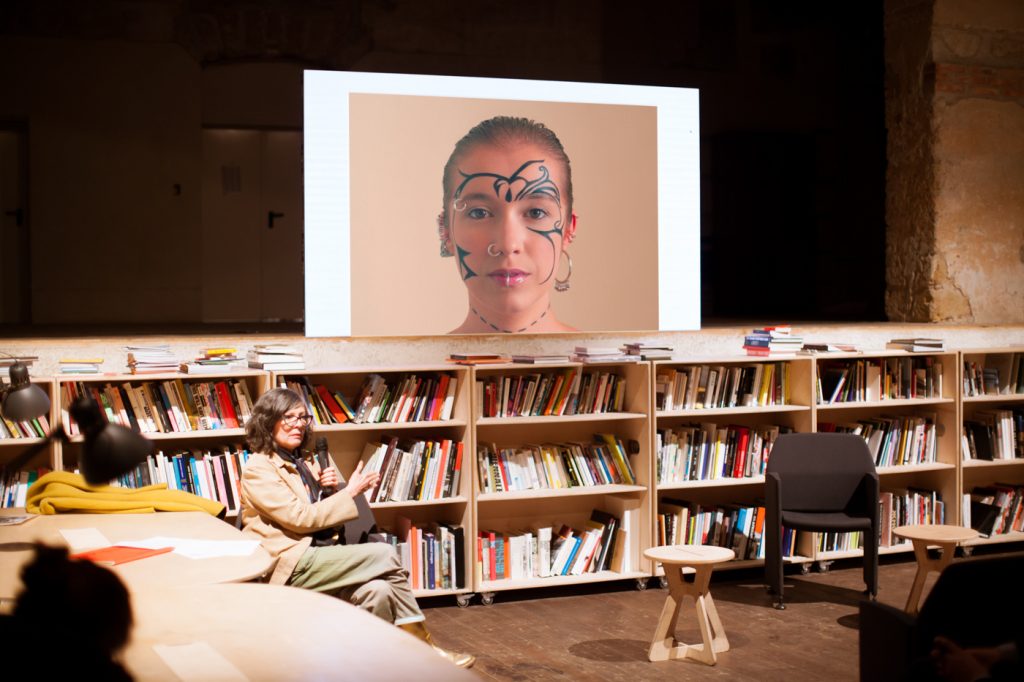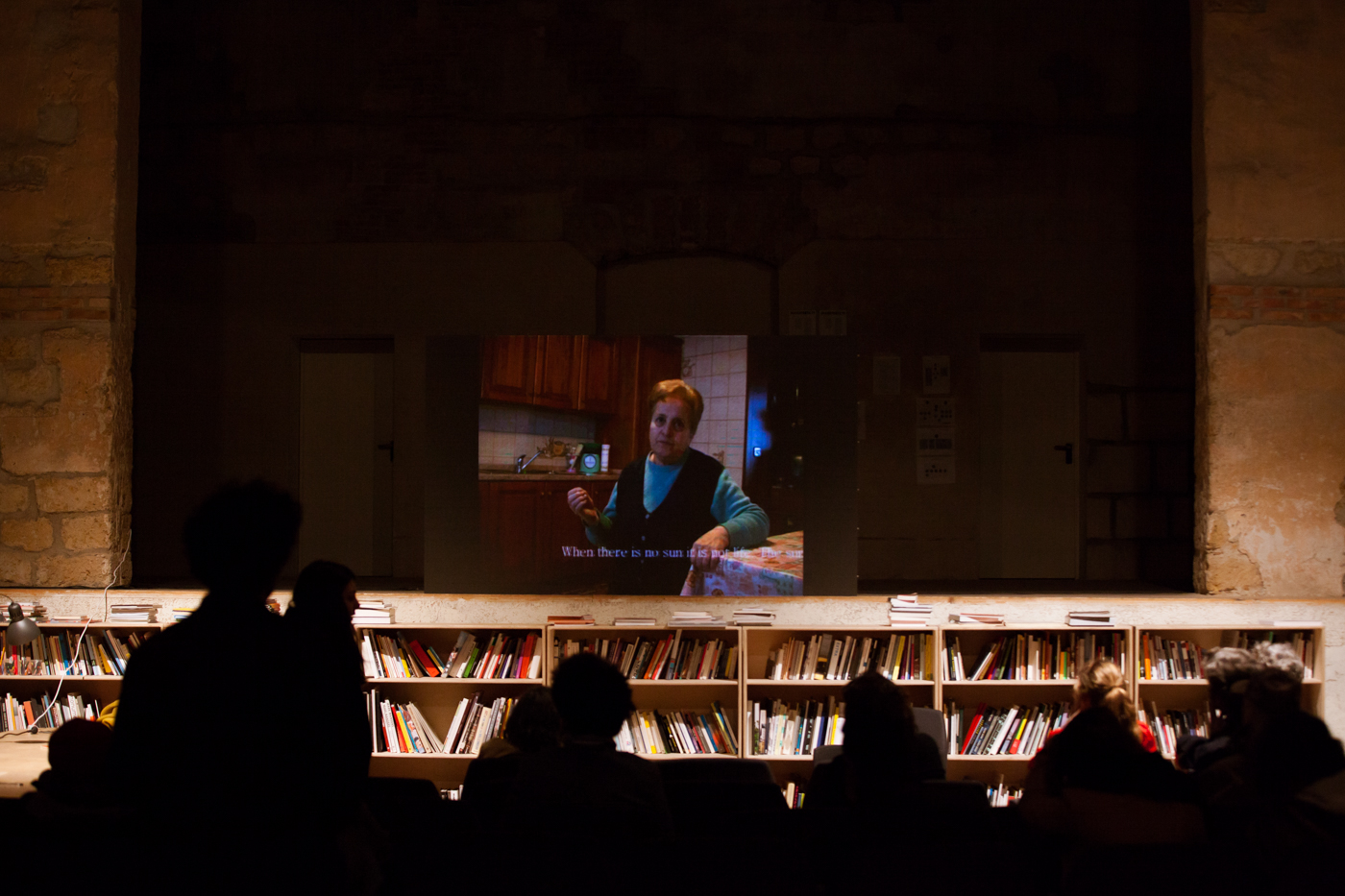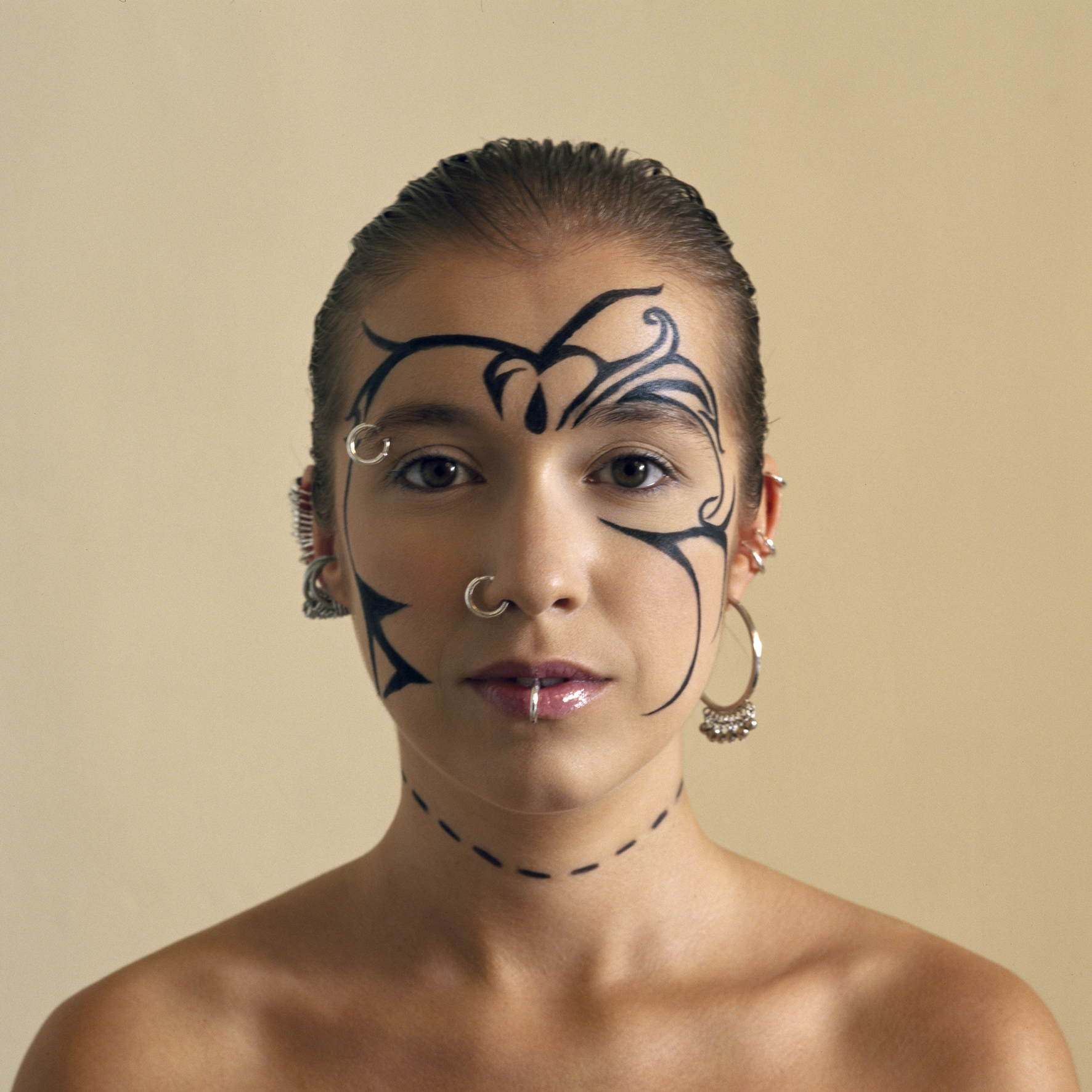 9th M12 Meet Up: with Wu Ming
Tuesday 13 March, 7pm, at Teatro Garibaldi 
Founded in Bologna in 2000, Wu Ming is a collective of writers and activists, and author of many historical novels such as 54, Manituana, Armando dei Sonnambuli, and L'Invisibile Ovunque. For several years, the group has also explored hybrid and non-narrative methodologies, developing a practice which spans from inquiry to travel literature, and which focuses in particular on critical interventions in the urban environment, and on what has never been said about Italian postcolonial history. The members of the collective have founded the Wu Ming Foundation, a free federation of collectives and research groups organising laboratories, and artistic, cultural and political projects. Such projects aim at dismantling and analysing established narratives, and rewriting them collectively.
For the 9th Manifesta 12 Meet Up, a representative of the Wu Ming collective (the member called Wu Ming 2) will present some of the recent works made by the Wu Ming Foundation focused on walking, observing and mapping, as well as those projects related to urban intervention as a form of collective writing. The meeting will also offer Wu Ming 2 the opportunity to publicly discuss the research he has carried out in recent months, and to formulate an official invitation to the citizens of Palermo to also contribute to this research by offering their stories and highlighting specific places in the city that tell something of the Italian colonial history (1869-1945) and of its legacy.
Manifesta 12 Meet Up with Wu Ming will be mainly in Italian and will be live-streamed on Manifesta Biennial Facebook page. Following the event, an aperitif will be served by Caffè Letterario Garibaldi at a special prize.
For more information on Wu Ming: www.wumingfoundation.com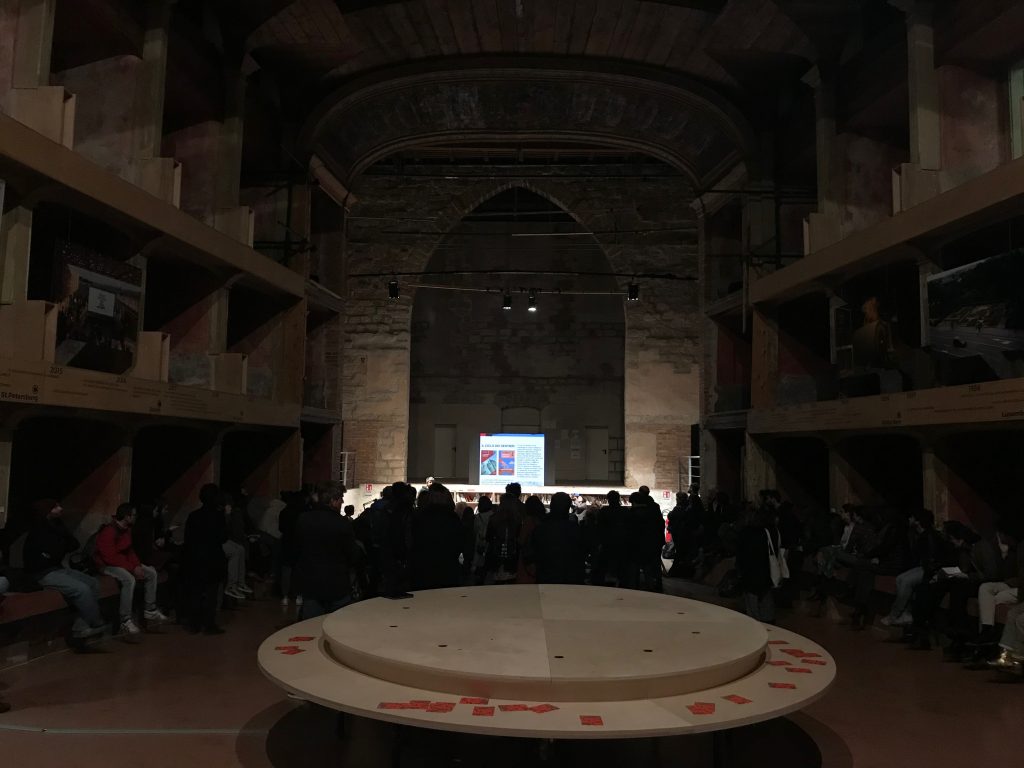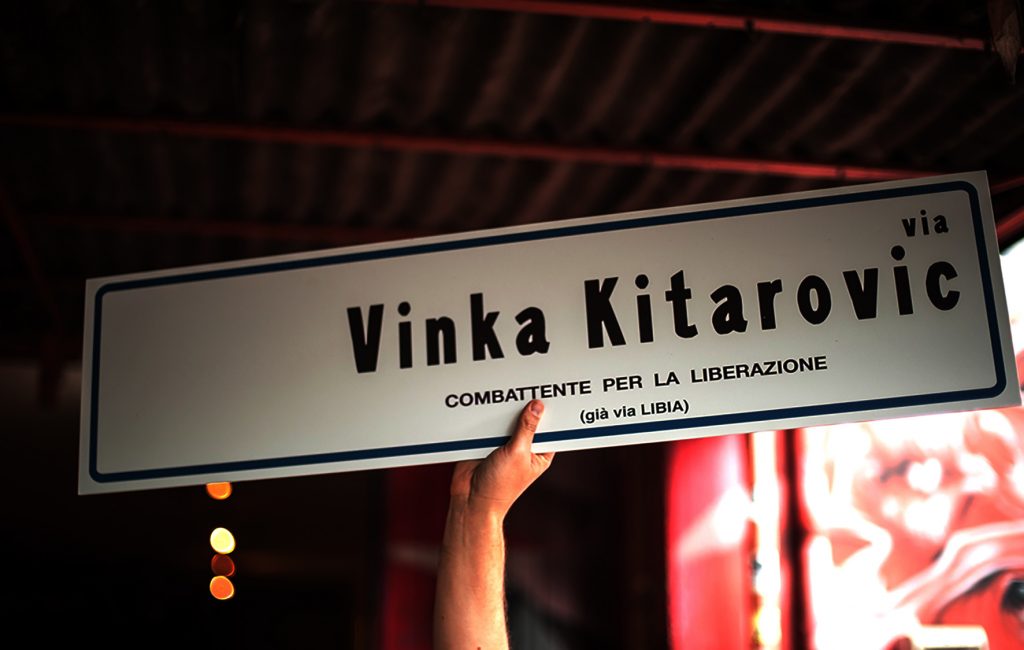 8th M12 Meet Up: with Rotor
Tuesday 27 February, 7pm, at Teatro Garibaldi 
Rotor is a group of architects, designers and other professionals interested in material flows in industry and construction, particularly in relation to resources, waste, use and reuse. Rotor disseminates creative strategies for salvage and waste reduction through workshops, publications, and exhibitions. They represented Belgium at the Architecture Biennale of Venice in 2010. Their exhibition, Usus Usures explored wear as a reaction to use in architecture and as potentially creative process. For the Prada Foundation, Milan, they curated ex limbo, a recollection of the material history of all Prada catwalks. The same year, 2011, they curated and designed the OMA/Progress show in the Barbican Art Gallery in London, an overview of the work of the Office for Metropolitan Architecture, while in 2013 they curated the Oslo Architecture Triennale titled Behind the Green Door, including a vast exhibition on the challenges facing 'sustainable' architecture today.
Rotor's approach consistently – and very often visually – emphasizes the effects of human planning, oversight, and extended use on the built environment. Material flows serve as a way to study how humans behave towards each other on a societal scale. In parallel with these exhibition projects, Rotor continued to realize various design projects, often interventions in existing architecture. This work has its equivalent in a growing series of deconstruction projects in which Rotor oversees the dismantling of building components in buildings slated for demolition, for reuse purposes. These dismantlings and the associated reselling activities are conducted under the heading of Rotor Deconstruction, a separate, spin-off entity created in 2014.
For the 8th Manifesta 12 Meet Up, Rotor attempts to present their practice through a series of recent – and less recent – projects, a selection inspired by what visiting Palermo has taught them so far.
For further information on Rotor: www.rotordb.org
Manifesta 12 Meet Up with Rotor will be mainly in English and will be live-streamed on Manifesta Biennial Facebook page. Following the event, an aperitif will be served by Caffè Letterario Garibaldi at a special prize.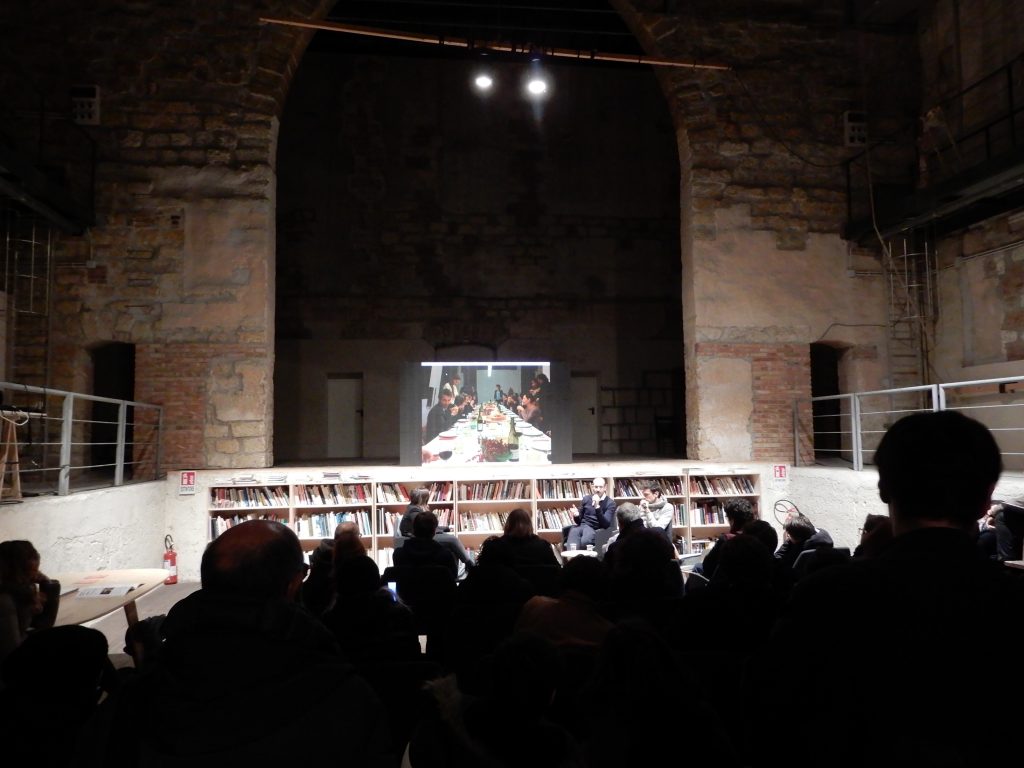 7th M12 Meet Up: with Cooking Sections
Thursday 22 February, 7pm, at Teatro Garibaldi 
Cooking Sections (Daniel Fernández Pascual & Alon Schwabe) is a duo of spatial practitioners based out of London. It was born to explore the systems that organize the world through food. Using installation, performance, mapping and video, their research-based practice explores the overlapping boundaries between visual arts, architecture and geopolitics. They have recently stated: <<Our work deals with the invention of the "exotic"; subjective definitions of "natural", "native", and "alien"; sun-oriented migrations; speculation, creation of value; and bankruptcy. We eat according to climatic events; and sometimes we do cook>>.
In the 7th M12 Meet Up, Cooking Sections discuss one of their long-term project, Climavore (2015). Both an installation and a performance, Climavore sets out to envision seasons of food production and consumption that react to man-induced climatic events and landscape alterations. Different from the now obsolete Eurocentric cycle of spring, summer, autumn and winter, Climavore rethinks the construction of space and infrastructure by focusing on how climate alterations offer a new set of clues to adapt our diet to them. Unexpected climatic phenomena, like subsidence, flash floods or drought, may span minutes, days, months, years or centuries. Climavore is then proposed as a form of devouring following their effects on anthropogenic landscapes.
Unlike carnivore, omnivore, locavore, vegetarian or vegan, Climavore is not only about the origin of ingredients, but also about the agency that those ingredients have in providing spatial and infrastructural responses to man-induced climatic events for a certain period of time. At the core is to embrace a flexible form of eating, shifting for instance to drought resistant crops in a period of water scarcity or filter feeders during times of polluted or acidified waters. Framing our diet within a globally financialised landscape and challenging large-scale agribusiness groups dictating what is to be produced and consumed, the notion of Climavore critically questions the geopolitical implications behind the making of climate alterations and the pressures they enforce on humans and nonhumans alike.
The event is free and will be mainly in English. It will also be live-streamed on Manifesta Biennial Facebook page. Afterwards, an aperitif will be served at Caffè Letterario Garibaldi at a special price.
For further information on Cooking Sections: www.cooking-sections.com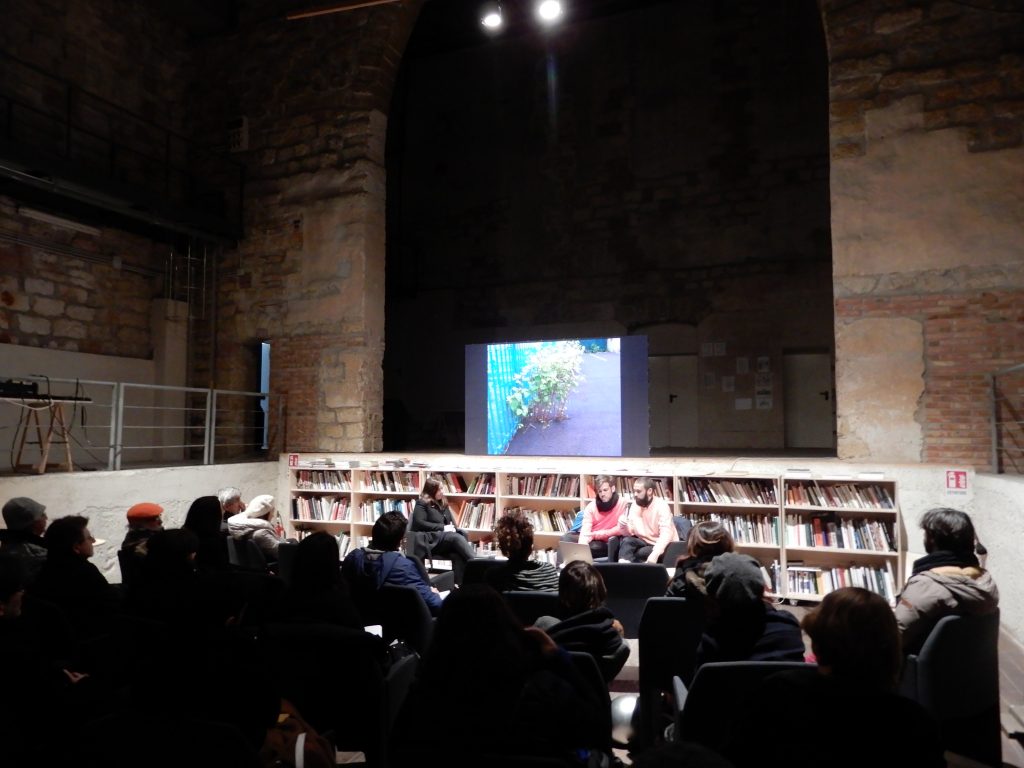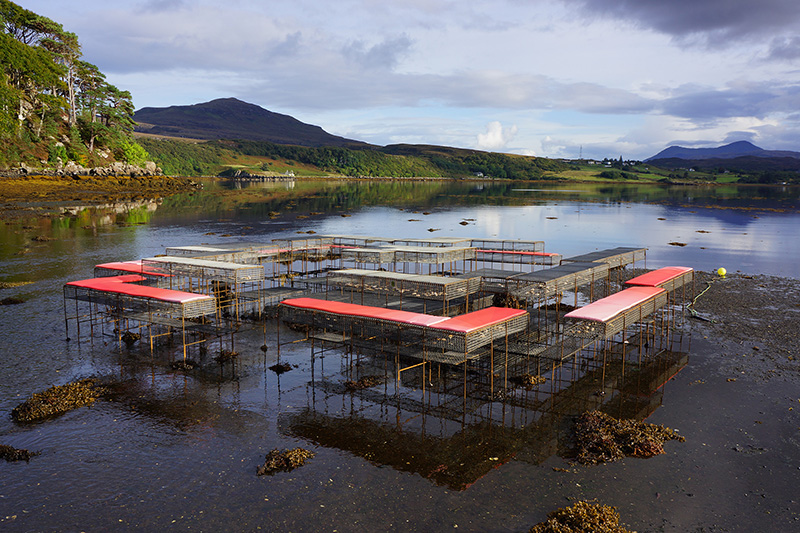 6th M12 Meet Up: with Jordi Colomer
Wednesday 7 February, 7pm, at Teatro Garibaldi 
Centring on photography, video and the staging of both in exhibition areas, Jordi Colomer (Barcelona, 1962) explores the urban space and the way modern cities influence the human behaviour. His works befit a kind of 'expanded theatre' through constructed situations that allow the spectator to assess his/her relationship with the works, and his/her role in and before these. Throughout his career, video progressively became his favourite medium, although often his productions are screened in spaces designed by the artist.
In many works the isolated actions of a character, or a group, condense reflection (but not without a degree of absurd humour) on the possibilities of poetic survival offered by the contemporary metropolis.  Highly representative of the artist' practice is the work ¡Únete! Join Us!, presented for the first time last year at the Spanish Pavilion at La Biennale di Venezia. The work is an "installation of installations" composed by a series of videos, sculptures and the space itself understood as a total but provisional architecture.
For the 6th M12 Meet Up, Jordi Colomer will discuss his practice and research, and will screen some recent projects. The  Spanish artist will also give his thoughts about Palermo, and will explain how the city can nurture the development of his work.
The event will be mainly in Italian and will be live-streamed on Manifesta Biennial Facebook page.
Afterwards, an aperitif will be served at Caffè Letterario Garibaldi at a special price.
For more information on the artist, please visit www.jordicolomer.com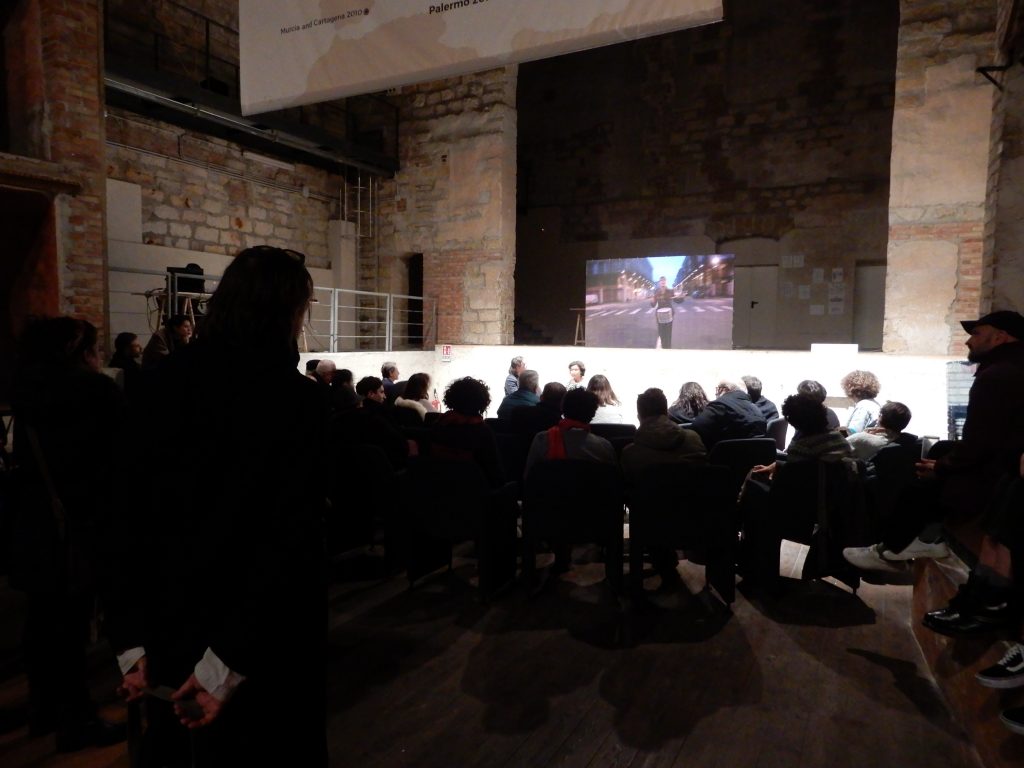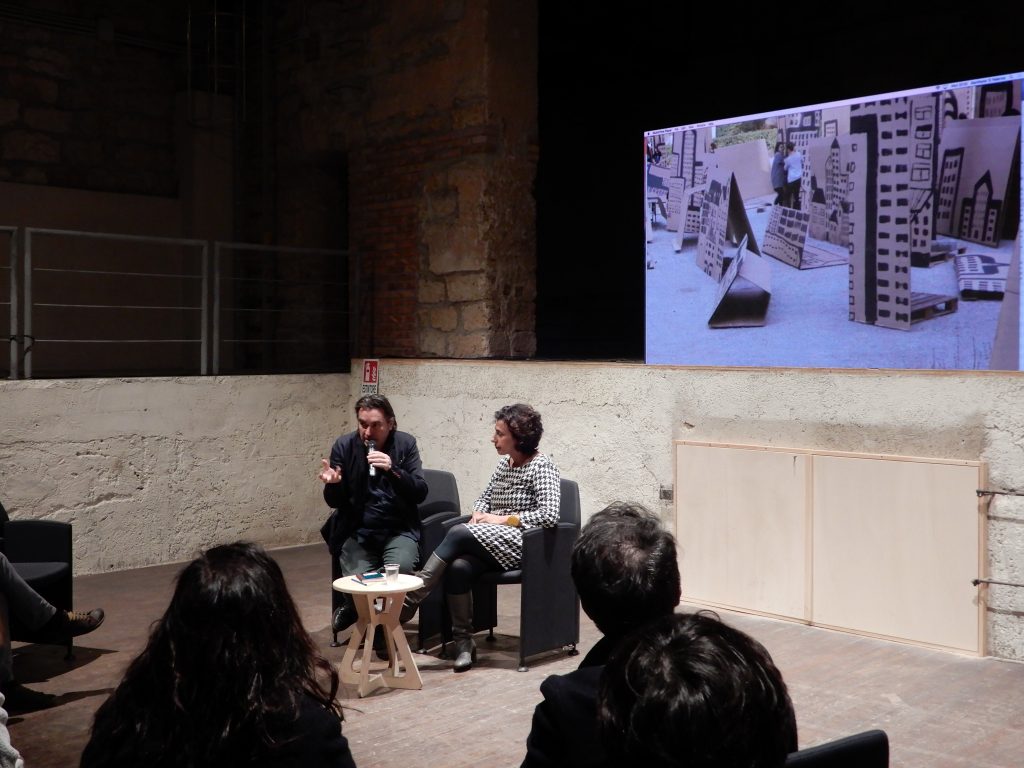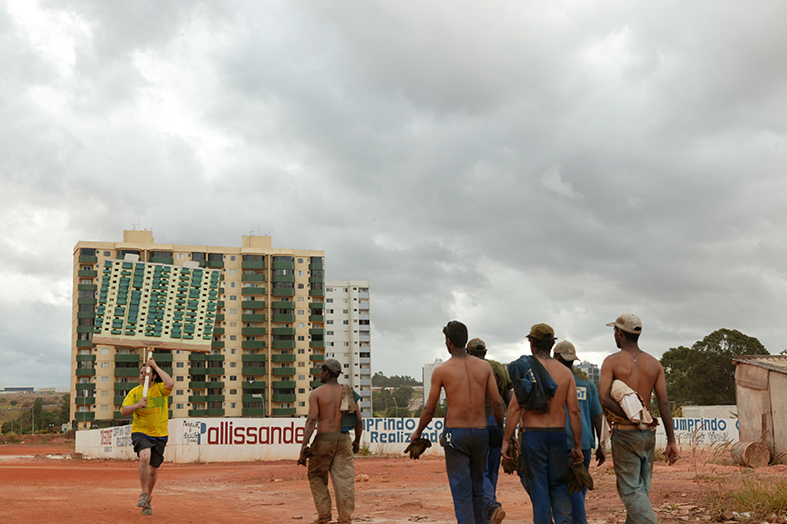 5th M12 Meet Up: with Alexey Buldakov
Wednesday 24 January, 7pm, at Teatro Garibaldi 
Urban Fauna Laboratory is an interdisciplinary project initiated in 2011 in Moscow by artists Alexey Buldakov and Anastasia Potemkina. It is dedicated to the observation and description of the interspecies networking in human designed landscapes. Cities, built by humans and for humans, serve as natural reservoir for multiple alien life forms learning from each other. The Laboratory provides cross-disciplinary case studies on parasitic and symbiotic relationships and mutual adaptation in urban environments, focussing in particular on invasive animals and plants.
Alexey Buldakov (b. 1980) has been invited by Manifesta team to conduct research in Palermo for his keen interest in spontaneous generation of life, interspecies altruism, "dissipative sculptures", dovecote/roost studies. Questioning the contemporary dehumanised anthropogenic landscape and particularly investigating how this is affecting the principle of spontaneous generation of life, his research-driven projects take the form of proposals for sculptural and architectural interventions in public spaces, site-specific installations and exhibitions that function as research laboratories.
For the 5th Manifesta 12 Meet Up, Alexey Buldakov proposes to discuss with the citizens of Palermo the spontaneous generation of the local urban fauna. The artist aims at collecting people's observations of the urban fauna inhabiting the Sicilian capital, and at offering them back his own experiences as these have been documented and explored in his recent projects and studies.
The event will be mainly in English, and will be live streamed on Manifesta Biennial Facebook account. Following the event, an aperitif will be offered by Caffe Letterario Garibaldi at a special price.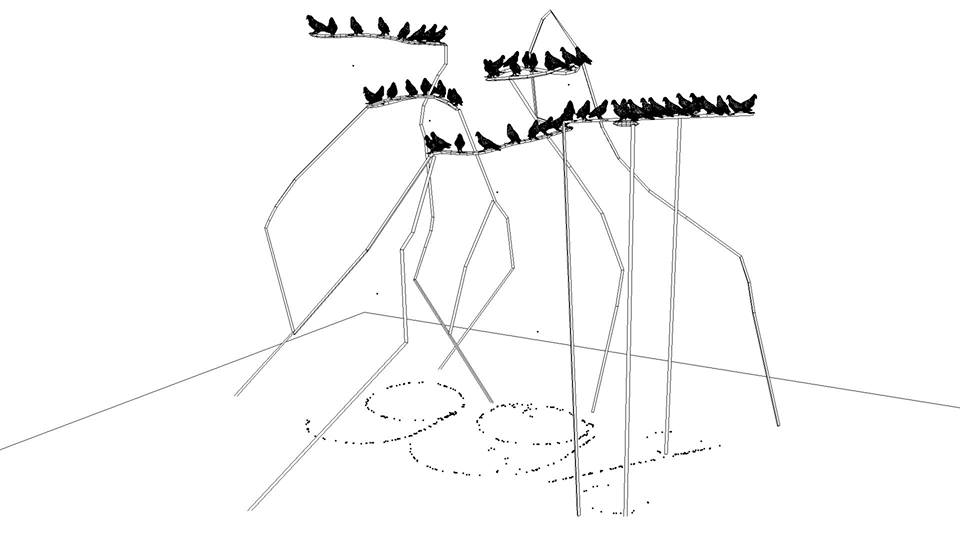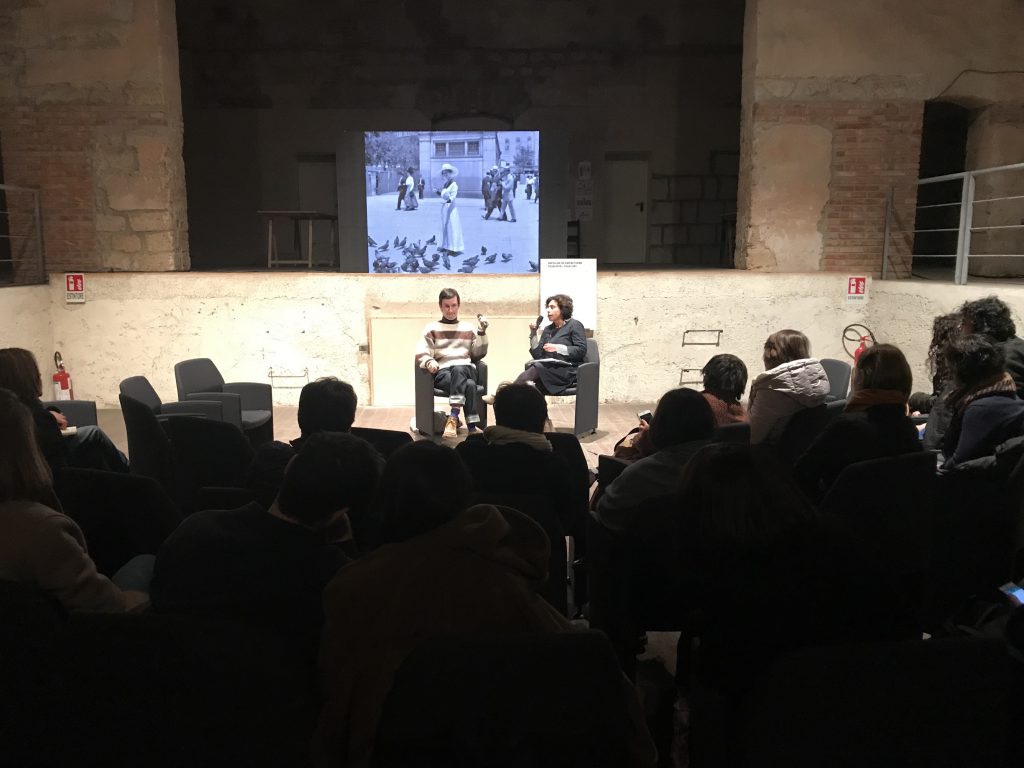 4th M12 Meet Up: with Fallen Fruit
Tuesday 19 December, 6pm, at Teatro Garibaldi 
Fallen Fruit is an art collaboration originally conceived in 2004 by David Burns, Matias Viegener and Austin Young. Since 2013, David and Austin have continued the collaborative work. Fallen Fruit began by mapping fruit trees growing on public property in Los Angeles. The collaboration has expanded to include serialized public projects and site-specific installations and happenings in various cities around the world. By always working with fruit as a material or media, the catalogue of projects and works reimagines public interactions with the margins of urban space, systems of community and narrative real-time experience. Fallen Fruit's visual work includes an ongoing series of narrative photographs, wallpapers, everyday objects and video works that explore the social and political implications of our relationship with fruit and world around us.
For the 4th of Manifesta 12 Meet Up Fallen Fruit will talk about their research-driven practice and explain how Palermo's peculiar landscapes are nurturing and influencing it. The Los Angeles-based collective will provide examples of their interdisciplinary approach by discussing with the public some of their past works, like Public Fruit Jams (2006-present) which invites a broad public to transform home-grown or public fruit and join in communal jam-making.
The event will be mainly in English, and will be live-streamed on Manifesta Biennial Facebook account.
Following Manifesta 12 Meet Up with Fallen Fruit, an aperitif with Sicilian fruit-inspired drinks will be served at the enchanting Caffe Letterario Garibaldi.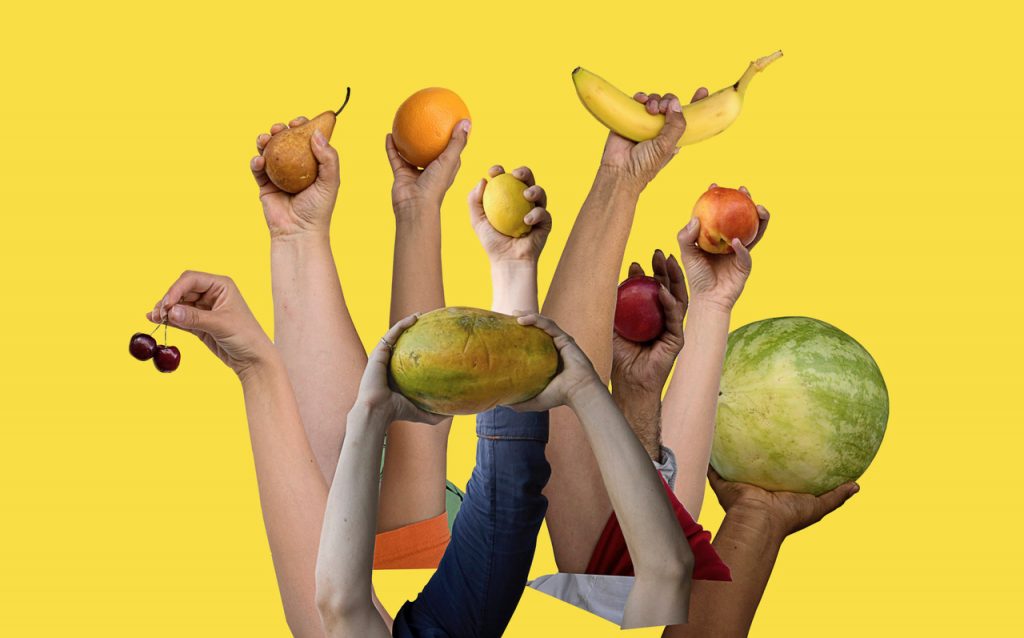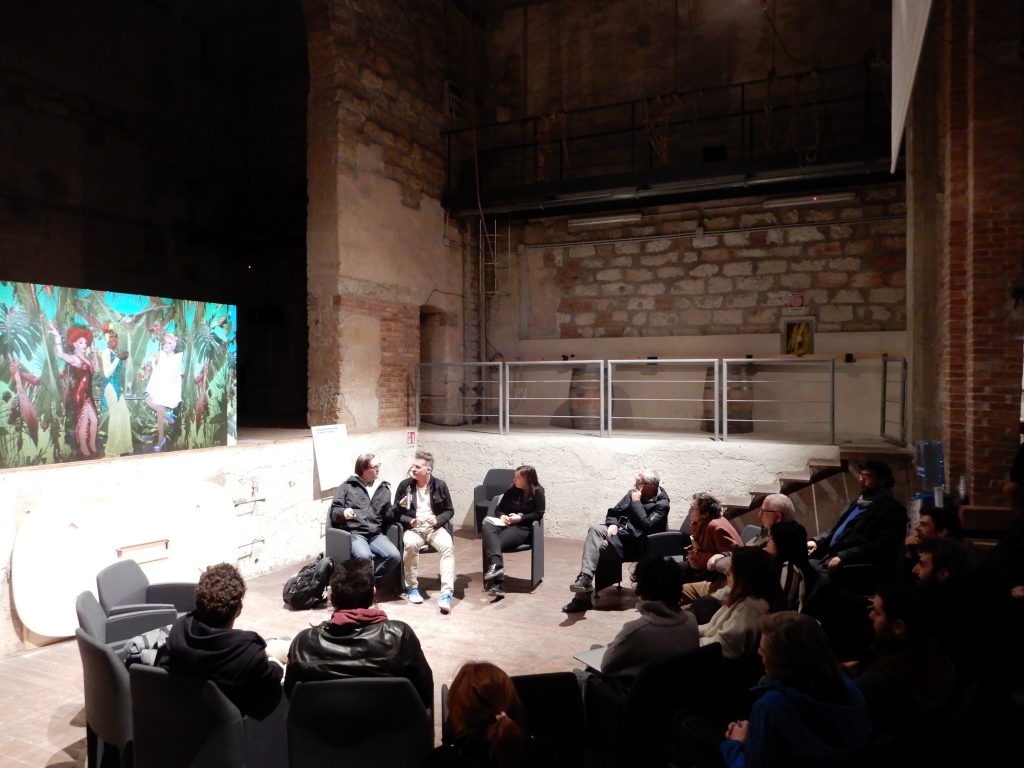 3rd M12 Meet Up: with Uriel Orlow
Thursday 30 November, 7pm, at Teatro Garibaldi 
Uriel Orlow lives and works in London and Zurich. His practice is research-based, process-oriented and multi-disciplinary including film, photography, drawing and sound. He is known for single screen film works, lecture performances and modular, multi-media installations that focus on specific locations and micro-histories and bring different image-regimes and narrative modes into correspondence. His work is concerned with spatial manifestations of memory, blind spots of representation and forms of haunting.
For the third M12 Meet Up, Uriel Orlow will discuss his major new body of work Theatrum Botanicum, an ongoing research project which looks to the botanical world as a stage for politics at large through film, photography, installation and sound. Theatrum Botanicum considers plants as both witnesses and actors in history, and highlights botanical nationalism and other legacies of colonialism, plant migration and invasion, biopiracy, and flower diplomacy during apartheid.
Following Manifesta 12 Meet-Up with Uriel Orlow, an aperitif will be served at Caffe Letterario Garibaldi at a special discounted price.
The event will be mainly in English.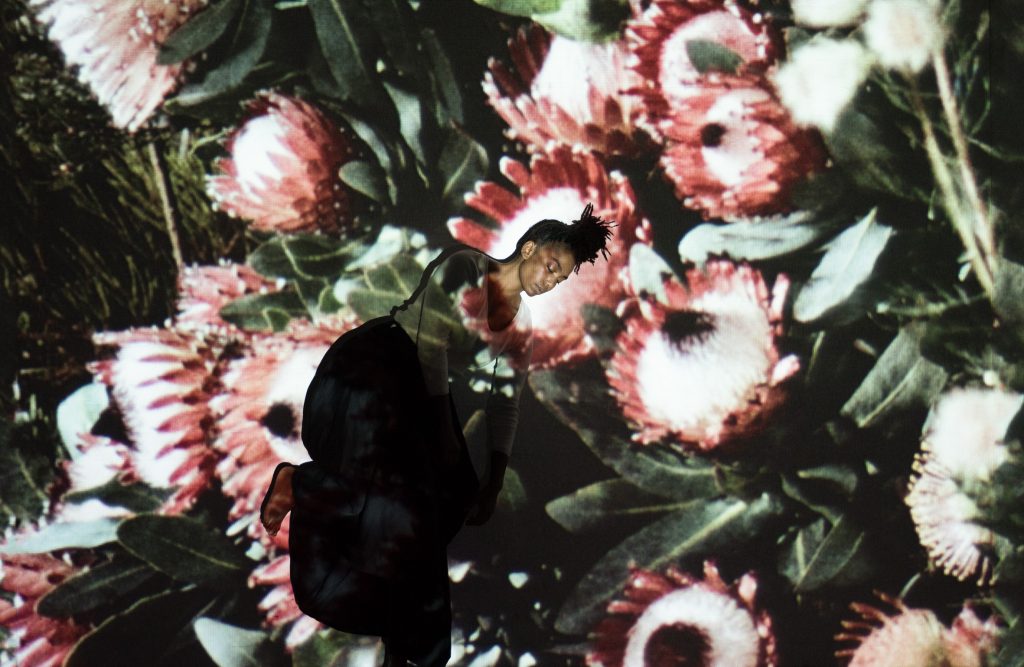 2nd M12 Meet Up: with Alberto Baraya
Wednesday 22 November, 6pm, at Teatro Garibaldi 
Through photography, video, found objects, and drawings, Alberto Baraya (Bogotà, 1968) analyses and at the same time parodies colonial exploitation and its echoes in contemporary global exchange. Since 2001, he has defined himself as a "viajero", referring to 18th- and 19th-century European travellers who undertook botanical explorations in the name of science and in the service of colonization. Over the past years, Alberto Baraya has created a 'Herbarium of Artificial Plants', an ongoing archival project that re-elaborates on the scientific journeys in the Americas made by European Royal Societies during the 18th and 19th century. The artist is particularly interested in the way the flora and fauna of certain countries have been recollected, dissected, classified and framed as a non-European nature by such studies.
In this meeting, together with the students and art amateurs of Palermo, Alberto will discuss the relationship people have with the way nature has been represented, but also the way certain everyday plants transform and affect the development of human relations.
Following Manifesta 12 Meet-Up with Alberto Baraya, an aperitif will be served at Caffe Letterario Garibaldi.
The event will be in English, and will be live-streamed on Manifesta Biennial Facebook account.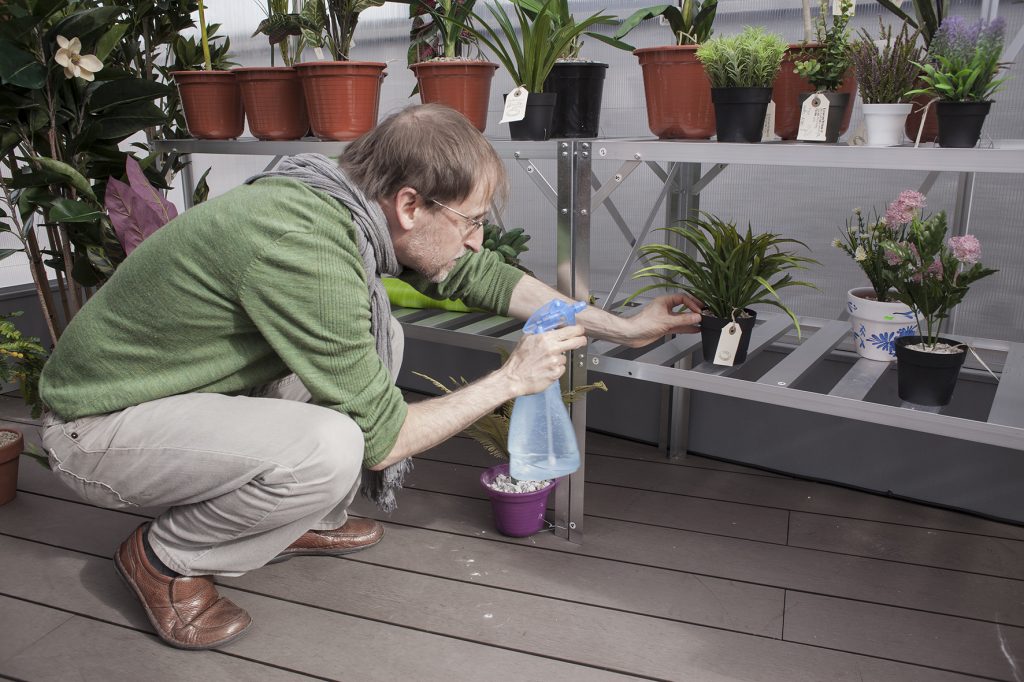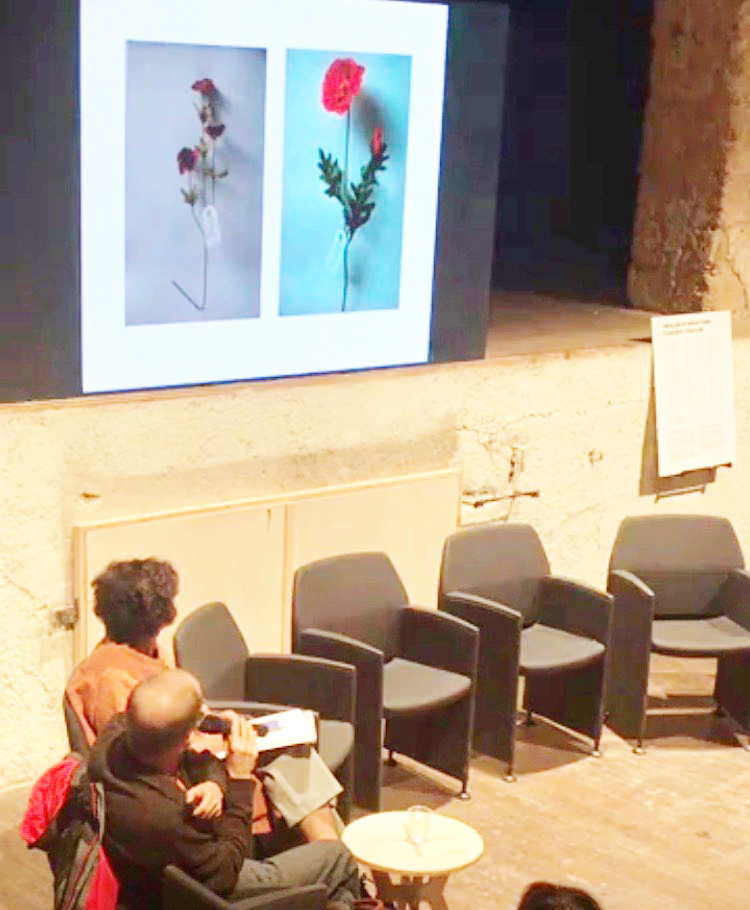 1st M12 Meet Up: with Leone Contini
Tuesday 14 November, 6pm, at Teatro Garibaldi 
The research of Leone Contini (Florence, 1976) mainly focuses on intercultural frictions, conflicts and power relations, displacement, migration and diasporas, and on how all these issues change the anthropological and botanic landscape of the context he is working on. His practice borrows the tools of contemporary anthropology in order to short-circuit the spheres of common feelings and significance through the use of lecture performances, collective interventions in public space, texts and audio-visual narratives, blogging and self-publishing.
In this meeting, Leone will discuss with students and art amateurs from Palermo the intrinsically hybrid genealogy of Sicilian plants and in particular of 'cucuzza', a long and cucumber-shaped summer vegetable that is typical of the island and particularly significant within the traditional Sicilian culinary culture.
Following Manifesta 12 Meet-Up  with Leone Contini, an aperitif with cucuzza-inspired drinks and food will be served at Caffe Letterario Garibaldi with a special discounted price.