Hotel Plaza Opéra and Hotel Principe di Villafranca are the Hospitality Partner of Manifesta 12: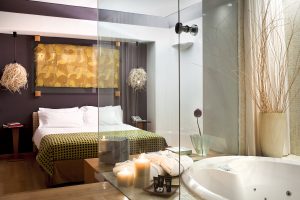 Cosmopolitan with a taste for tradition, Hotel Plaza Opéra rises right in the heart of downtown Palermo, a few steps away from Piazza Politeama and Viale della Libertà. This distinctive 4-star luxury design hotel boasts 47 rooms, including 3 superior and 3 deluxe rooms, plus 2 penthouse suites, and its common areas, where the combination of contemporary and modern art, original antiques and design furniture creates a unique and refined atmosphere. The hotel features a penthouse solarium terrace, a lounge bar, a business center and a private garage. Tailored service and hand-picked recommendations will accompany guests all throughout their experience, from reservation to check-out and beyond.
Hotel Principe di Villafranca is located in the most eclectic and fashionable neighborhood of Palermo, where exclusive designer boutiques live side by side with top restaurants and wine bars. Its refined and stylish atmosphere and its common areas, decorated with a selection of masterpieces by ancient Sicilian furniture makers, precious paintings and fabrics, bring guests back in time, while the pure and essential shapes of the guestrooms, including deluxe rooms and junior suites, furnished with sophisticated design and contemporary art elements, and unusual materials like concrete and resin, together with traditional elements like wood and marble, make every stay truly unique. The hotel features a library, a fireplace room, a lounge bar, a fitness room and a private garage.
Manifesta 12 Palermo warmly suggests also the following hotels to its visitors for their stay in Palermo:
Five Stars Hotels
Four Stars Hotels
Private Apartments
Bed and Breakfast